It's Fall Y'all and time to share our annual mantel display with blog hops around the globe…however….we don't have a mantel! Boo hoo! So we created a simple Autumn Display on the center of our large table. Of course, it has a bit of coastal flair to it because, well, we live at the beach in a cottage.
Our ceramic pumpkin is pushing 25 years old this year and was bright orange so a few brushes of ivory acrylic paint and crackle glaze mellowed his look out a bit.
Our hydrangeas are still covered with blooms in the cottage garden so we just "had" to incorporate them into the grouping. ..
The blue glass bottle is a treasure purchased from a local antique store last month. It is from around 1900 and is exquisite up close (especially when light shines through it). It's probably my favorite purchase this year.
One advantage of NOT having a mantel is that I can have a two-sided display.  Look here!! It's a Jack 'o Lantern on this side…
Nothing fancy around here…just a bit of simple Autumn fun.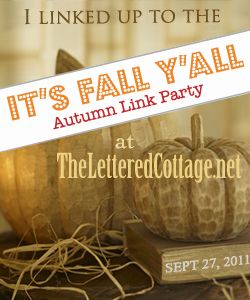 Comments
Comments