What a fun weekend we had!  Liz and I created a couple of fun little coastal crafts plus we pulled out some board games AND a jigsaw puzzle – yep, Autumn is really here!  We are word game lovers in this household so Scrabble, Boggle and Perquakey can be found at the top of our game basket.  Do you play more games during the cooler months too?
A jigsaw puzzle with a photograph of an old covered bridge and golden leaves came out of the box last night. Our dining room table is graced with the puzzle until we finish it this later this week BUT before we used the table for that we made some candle holders from everyday household items.  Liz was inspired to create these from a photo she found on Pinterest, shown below:
We filled large goblets (16 oz. size) with dried split peas, black beans and popcorn.  A tea light candle was centered into the top of the corn.  To give our creations a coastal flair; we added a rubber band, tucked a Sugar Starfish under it and then covered the banding with jute.
Easy peasy and we love them. They look great in several different rooms so I'm sure they'll be moved around…a lot!!!  They really are perfect for a decoration all the way through Thanksgiving.  We made a few candle holders using different jars and materials too…but those will have to wait until next week to share!  What crafts have you made lately??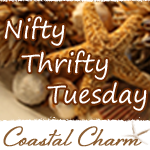 – – – – – – – – – – – – – – – – – – – – – – – – – – – – – – – – – – – – – – – –
Today's coastal article brought to you by these premier coastal partners…
As well as these fabulous coastal businesses >Coastal Marketplace
Comments
Comments