Here we go, boys and girls. My first decorating resolution of 2012 is to remove the ugly old carpet in this cottage of mine!  Not only is it the original brown carpet, which was installed in 1989, but it seems that the previous owner had a kitty cat that liked to use the carpet as a litter box.
Well, I've lived here for three years and shampooed all the carpets like 15 times with every known recipe for removing urine and now our three doggy girls have decided to use the same carpet areas as grass.  Embarrassing to admit; but this is the real world! When you have animals they aren't always perfect.  The poodles like to "tenderize" the carpet too, which has resulted in tiny bare spots and carpet fibers being torn out.  Oh, I almost forgot about the fact that it is stretched out so much under our dining table that we have a lovely big ridge of carpet. Pretty nasty, huh?  Here's some photos to give you an idea of what we are working with here.
You may be wondering what we have in mind for this old, stanky carpet of ours (yes, she used the word "stanky" folks!).  Well, money is tight so we are getting creative.  Things that we took into consideration:
1. cost
2. durability for animals
3. cleanability due to lots of beach sand and allergy sufferers in the house
4. something that will create a cottage feel
Here is what we came up with…drumroll, please….plywood plank floors. YES! no?
Yes, plywood! We found a tutorial online at Quarry Orchard's blog and it looks totally doable.
We then searched for a floor finish which we liked (remember we want a cottage look) and Frugal Farmhouse Design had exactly what we were envisioning.
Their plank floors are also created from plywood; however they used a light grey wash on them…swoon. Just what I want! Even if over time they end up looking like this…
Here are some shades of grey we are considering…do you have a suggestion?
We found the original blue print of our house plan (thank you previous owner) and I darkened the parts to show you the areas where the new flooring will be used. My knees hurt just thinking about it.
So this is probably going to be the biggest project of the year and we are pricing plywood, figuring out where to move furniture and dispose of old, ugly, icky carpet…all while keeping under $800.00 for 880 sq ft. of living space.  Can it be done? Of course! (keeping fingers and toes crossed!).  I'm off to grab empty boxes and start packing up the living room!
Do you have some Decorating Resolutions???
Share them at our Blog Linky Party on January 23rd!
Sharing at…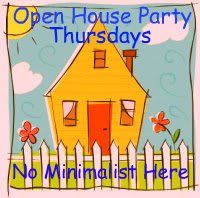 Comments
Comments