How do I explain my love affair with vintage diving girls and vintage swim suits?  Sounds a little weird, I know…The first time I ever spotted these vintage swimmers from America Retold,  I knew I was a goner.  I think I bought 40 of these candle holders in every color and shape imaginable, for our first store in Poulsbo.  These black, white and red ones gracing my office bookshelf might be the only ones I have left…
And then there were these girls, we could not keep enough of them in stock for our store customers or our online customers.   (photo taken on my old deck in Manchester, WA)
I think you can still find these bathing beauty girls online and locally (if you live near the beach) I spotted them a few months ago in the Cliff House Sutro Bar in San Francisco.
Framed image spotted at the Cliff House, former Sutro Baths competition swimming venue in the 20's-30's. The entire restaurant is covered in these fun images!  I snapped this one a few months ago when we took Tom's mom out to dinner there.
1920's California Girls  (online for less than a day!)
French Flea Market Umbrella – LOVE!
Kicking myself for not buying this photo!
I did buy the Jantzen ad!  Could not resist it – and now it takes up a big corner on my messy office bulletin board, along with the vintage Chris Craft ad.
Now to give you some ideas for using vintage swimming suits and vintage swimming girls in your beach house!   Spotted at Houzz and on Pinterest earlier this week:
Or how about this bright aqua green and turquoise living room? I am simply nuts about all of the bright happy colors, and that The diving girl pillow caught my eye right away!
Where can you find your very own vintage bathing girls?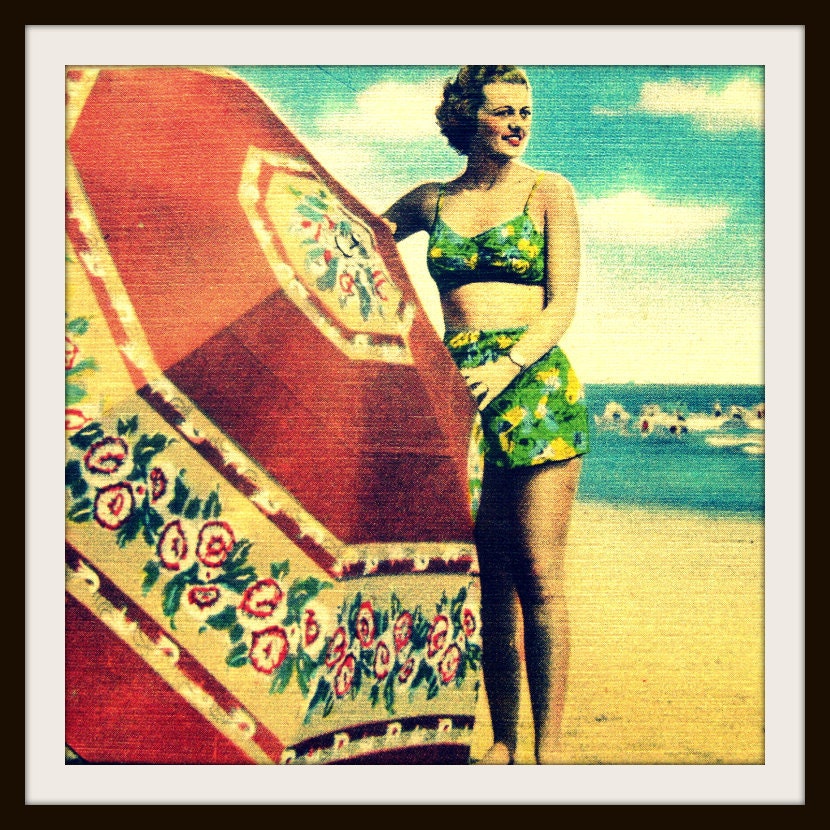 Cute polka dot bathing suit lamp
Vintage Inspired Pillow with Blue Striped Ticking!
See, I told you I have a little bit of an obsession. Have a great week everyone!
Comments
Comments