Coastal Modern Glamour Foyer ideas from Caron White of Caron's Beach House…
Want an elegant, modern style for a beach house?  Try a foyer-console table like this pretty white clean-lined "X Console" from Plantation Design. (P.S. This is my new furniture fantasy website!)   Just discovered that Plantation has a showroom in San Francisco, I will definitely have to make an excursion later this week in the mini cooper!
Accessorize it with only a few interesting items and strong statement lighting.  There are lots of options out there for clear crystal lamps – here's a few that I found that might be interesting.  Remember to keep the lines streamlined and clean.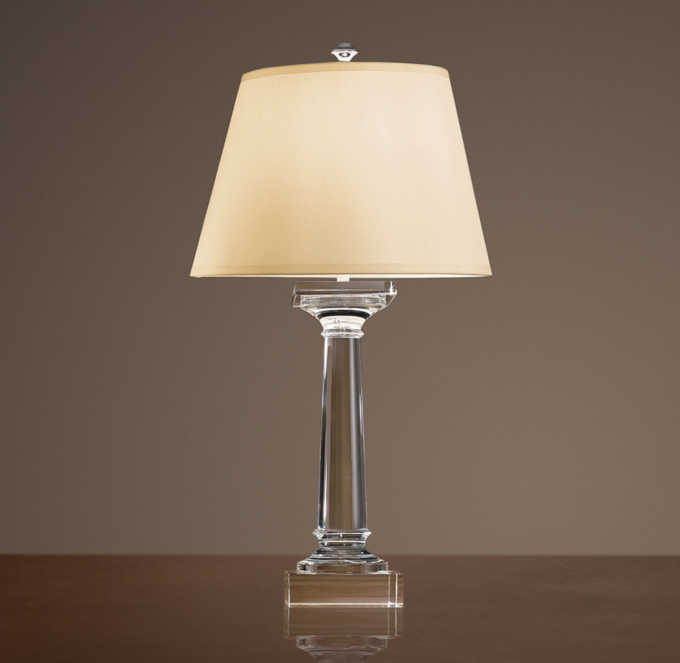 Restoration Hardware – Saxon Lamp.
Pottery Barn-Bancroft Crystal Lamps 
Clear Glass Baha Lamp at Caron's Beach House
Keep the accessories uncluttered, and unfettered, unlike a beach cottage look, by using only contemporary shapes and designs.  Think about using natural shell boxes, or mirrored boxes.
West Elm-Mother of Pearl Boxes
Mirrored Boxes from Lazy Susan 
Karen Robertson Design always has something beautiful!
There's just something about that grand shell mirror too. Here's a few examples of some similar ideas.  After doing an extensive online search, think the one in this image may have been from Anthropology, but unfortunately it is no longer available.
Oly Studio – Nest Mirror, comes in two sizes.  Check their site for local and online retailers.
26 inch diameter Mother of Pearl Mirror, Currey & Co. – can be found at Caron's Beach House. New!
Discovered on Etsy – LOVE this round mirror covered in purple barnacles!
 My Green Gazebo
  Simply love the varied shades of lavender, violet and purple in the barnacles, very creative
What do you think?  What would you add?
Comments
Comments